The Loss of control and craving for alcohol or other mood changing drugs is a treatable illness treatable at any stage in the life-cycle of the any one, regardless of the circumstances of person's background, race, income profession or education.
Alcoholism or drug addiction is a diseases-an acute multi phasic disorder that is characterized by dysfunctioning of the body, mind, emotions, spirit (value) and relationships with family, occupation and society at large. Any therapy for the addict must treat the whole man. The whole man..the whole person must be approached with multi disciplinary action on various levels; involving medical, behavioral and social science, and philosophical and theological wisdom
TWO CLINICAL / MEDICAL FACTS ONE
The Pathologies (problems) that develop as the results of the misuse of any mind altering or mood-changing drugs are roughly the same
TWO: The Recovery process is essentially the same, regardless of the type of mind-altering or mood changing chemical
The Re-life treatment and recovery centre offers an intensive extension 12 steps centered service for the treatment of the disease of chemical dependency. The treatment methods include an-in patient programme of variable length of stay as indicated as well as out patient services individualized to the patient's needs Counsellors function with a term. of physicians, psychiatrists clinical psychologists, qualified social workers to meet the medical and psycho social needs of the patient.
The treatment method is a very delicate amalgam of western and Eastern methods in a therapeutic community ambience which basically aims at helping the chemically dependent patient admit and accept that he is now powerless over alcohol or other drugs of choice. Acceptance of this failure or powerlessness comes gradually over a period of time without any mood or mind altering pharmaceutical substance.
Extension use of individul and group counseling diabetic educational sessions, exercises, yoga and meditation games etc….bring about a sense of belonging to a peer group which has imbided positive value system of honesty, open mindedness and willingness, normal luxuries of life are given
Family therapy is an integral part of any treatment plan as the disease of co-dependency exists within the family members learn how to communicate with each other and deal openly with their feelings
The Re-life programme is specifically focused and designed to restore the chemically dependent person and their family members to optimal health and functioning of body, Mind, emotions, spirit (values) and Relationships
(Re-Life meditation logo has to come)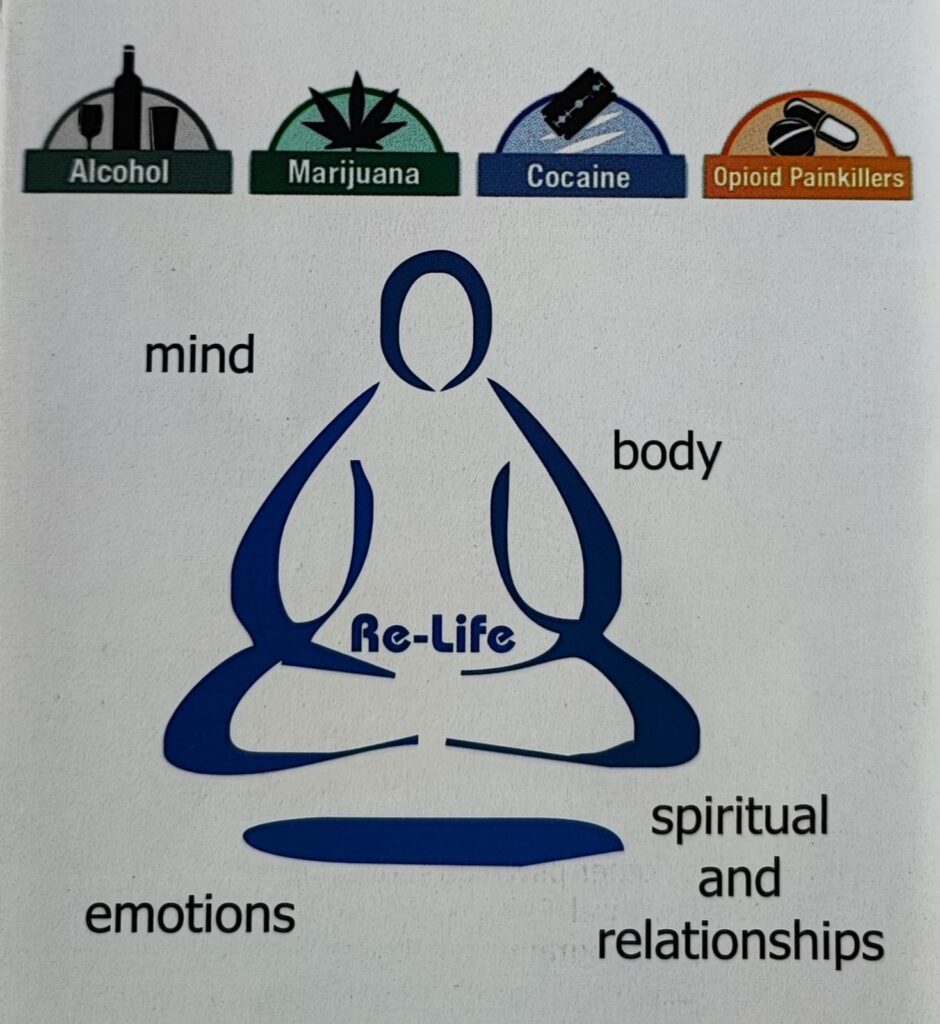 In Order to accomplish that clear goal of lasting recovery (Getting clean and sober and practicing to stay that way comfortably) active participants in the Re-life programme go through areas.
1) BODY : Safe Detoxification, Optimize Physical Health
2) MIND : Learn about the disease of chemical dependency and choose new ideas and attitude over dysfunctions old ideas and belief system
3) EMOTIONS : Choose to learn how to identify clearly and express feelings, Discover new an healthier ways of coping with feelings
4) SURRENDER: Choose to learn how to use the superior tactic of surrender. Learn to improve the quality acceptance of having the diseases of chemical dependency
5) PERSONALITY & CHARACTER :Choose to identify what aspects of your personality or character have interfeareduntill now with your ability to choose your recovery, holistic and happiness
6) RELATIONSHIPS : Choose to restore healthy relationship to yourself, to others(family, job, society) and to the natural Healing Powers of the Universe
7) PROGRAMME OF RECOVERY : Choose to learn how to use the most effective long term programme or recovery for your own benefit, to ensure your own lasting recovery one you leave the treatment programme.
Re-Life is also equipped with a dual-diagnosis wing to treat addicts with other psychiatric disorder. Qualified psychiatrist and Clinical Psychologists treat with the system change programme. This has helped many mentally disturbed patients like schizophrenics manic depressives etc…….
"Get Your Lost Life Back"
"Alcoholic or Drug Addict is not a Bad Person or Mad Person But is A Sick Person "
TREATMENT REQUIRED
Experienced Councellors
Expert Doctors, round the clock
Efficient health-care attendants
Yoga & Meditation for complete
Physical-Mental & Spiritual healing processes 
Extra Secure Environs with 24 hr. surveillance CCTV (closed-circuit television)
Hot-water, delicious & healthy food 
UV & RO purified drinking water. cooking also
Value-added Facilities with good ventilation